A transcription of a diary of N.B. Brewer. This was given to me as photocopies of a transcription made by someone that I now believe to be my Uncle James (my father's brother). The transcription is written on paper from "The Morris Plan Company Of Oklahoma". I've tried to copy the capitalization of words as closely as I can, but the transcription is in cursive writing, and sometime it is hard to tell. Where in doubt of the spelling, I've notated with the following... [sp]. Any other added notations will be in the same brackets. Grandfather Locke's mother's maiden name was Brewer. They came to Muskogee, Indian Territory from Tennessee after the war (between the states). Napoleon was the oldest of 7 children born to James Moody Brewer and Rebekah Green Richardson. James was born in North Carolina about 1793. Some information about the family:

- Napoleon B. Brewer, born 22 Feb 1838 in Gibson County, TN; died 07 Mar 1863 in Shelbyville, TN
- Samuel Richard Brewer, born 10 Nov 1839 in Park Place, TN
- John Allen Brewer, born 24 Aug 1841 in Park Place, TN
- Ann Elizabeth Brewer, born 04 Feb 1843
- Theodore Frelinghuysen Brewer, born 30 Jan 1845 in Tennesse, died 06 Apr 1928 in Tulsa, OK
- Mary E. Brewer, born 13 Feb 1847 in Park Place, TN, died 14 Jul 1924 in Oklahoma (my great-grandmother)
- James Brewer, born about 1849 in Tennessee

John Locke
Austin, TX


More information about the 47th Tennessee Infantry Regiment C.S.A.
---
My Travails Since I Left Yorkville in April 6th 1862
N.B. Brewer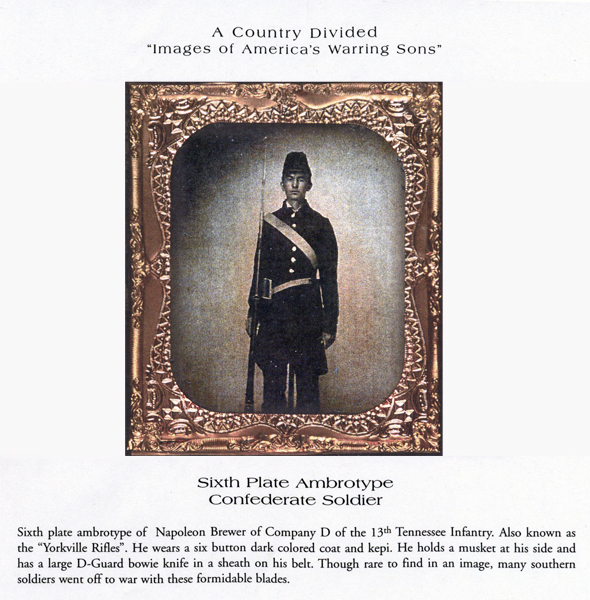 1 April 6th Left Yorkville for Corinth, Miss. Took the Cars at Trenton on the Evening of the 7th of April 1862. Landed Corinth on the 8th of April, camped at that place one month and 20 days.

2 May 28th Our Retreat from Corinth. Miself, Four others Left Corinth May 28th walked the first day to Cossouth [Kossuth, MS] dis 12 miles, The Main Body of the Army Left the Night of Apr 28th.

3 May 30th, walked within 10 miles of Ripley. Hired a one Horse wagon. Took us to Ripley paid him Five Dollars. Walked that evening one mile out on the Pontetoc Road. Stayed with an Old Gentleman by the name of Red Williams - Gray. Stayed with him two nights and one day. Taken us 10 miles to Cotton plant [Cotton Plant, MS]. Did not charge us a cent. A Clever man.

4 June 1st 1862, Stayed in the neighbourhood of Cotton plant with Old Gasway, Two nights and one day, charged us like the Devil.

June 3rd, 1862. Left gasways, and went to Cotton plant hired an oxx waggon taken us 18 miles charged us eight dollars.

5 June 5th Walked 10 miles to Baldwin [Baldwyn, MS] on the M.O.O. Rail Road, Left that Evening for Columbus Mifs [Columbus, MS], with the sick. Landed there June 7th Left. Left That Infernal place on the 10 for Tupelo, landed at Tupelo that evening. Camped at Tupelo one month and 15 days. Nothing occured at Tupelo during our stay 1862 except a great deal of sickness.

July 25th Left Tupelo Friday morning for Mobile Ala landed there the evening of the 26., reshiped there took passage on the Senator. Sailed up the Mobile River 110 miles struck the mouth the Alabama River sealed up it 3.63 miles to Montgomery, Landed at place Wednesday morning the 30, of July 30th

July 30th Left Montgomery at 3 O'clock this evening. For Atlanta, Ga. Landed at Atlanta the evening of the 31 July.

July 31st Left Atlanta the night of the 31st. For Chattanooga Tenn. Landed there, Aug 1st.

Aug 1st Walked 2 miles from Chattanooga struck camp at the foot of the Lookout Mountains.

Aug 8th 1862 Left Chattanoga for Knoxville. Landed at Knoxville on the 9th. Struck camp that evening one mile from town.

Aug 13th Left Knoxville for someplace we do not no where[.] walked to day within Four Miles of Clinton [Clinton, TN], The Co seat of Anderson. We are all very tired.

Aug 14th Crossed Clintch River at Clinton, Nothing occured of interest during the day.

Aug 15th. They marched three miles beyond Jacksborough [Jacksboro, TN] the Co seat of Camdell, Co within a short Dis from the Cumberland. Found struck camp. Feat very soor [sp].

Aug 16th Look up the Line of march went through Phincastle [Fincastle, TN] marched to the mouth of Willsons Gaps [Wilson Gap] struck camp for the night.

Aug 17th We were ordered to take up the Line of march this morning at 1, o clock we climed the highest peaks of the Cumberland Mountains to day. Travailed Twenty six miles. Nothing to eat but Rostenyears and Beaf without Sault. The Rougest Road I ever saw struck the Kentucky Line struck camp for the night.

Aug the 18th Took up the Line of march before Day light walked hard all day. Landed at Barbersveille [Barbourville, KY] Late in the evening.

Aug 22 Left Bartersville for London. Larral Co Ky. Landed there on the 23rd.

Aug 24 To day is Sunday we are in camp in the coast House Yard at London. We have captured Three Hundred waggons Loaded with Commaseries, near London. And a great many Mules & Horses.

Aug 25th Detailed to hunt for arms. did not find any.

Aug 26th Nothing occured of interest during the day except William Ashley getting a Little Light on hard Cider.

Aug 27th Look up the Line of march from London Towards Richmond. Marched thirteen Miles to day. I Rode an old Horse all the way bare backed. Camped on the Rockcastle River.

Aug 28th We are still in Camp at Rockcastle River. Prep airing Rations for Too Days Expecting to leave this Evening. Left at Five O'clock for Richmond. Traveled until 12 o'clock that night. Mi Feat is literaly ruined. Layed down on the side of the road for the night.

Aug 29th We marched in Line of Battle all day. The yankeys have Fallen Back from Bighill, To Richmond.

Aug 30th We marched 2 miles to Kingston. There we ware met by the Yankeys in Large Numbers. The Fight opened at 8, o'clock. The Battle was Conducted by Gen Kirby Smith. Gen Preston Smiths Brig opened the Fight. The Federals ware Commanded by Bull Nelson. They numbered about 12,000 if not 15,000. Gen Preston Smiths Brig attacked them about 8 oclock in the morning.We had to march through the thickest Brier Thickest I ever saw. Under a deadly Fire several of our Men were Killed and Wounded there. But when Gen Preston Smith commanded us to Fire They Fell Like the grane before the Reaper. It was then and there Tenn Lost some of her bravest sons. But they ware soon routed from the position They Then held. In There Retreat Numbers of them were killed and wounded.
They fell back 2 miles. Our Brig pursued Them about one mile. It was a very warm day. We could not run them any further. Gen Smith halted us under a beautifull Shade in a Meadow. The Feds Took There second Posistion in a Field behind a Fence Near some hay stacks. Gen Cleborns Briggade came up attacted them at There Second possition soon routed Them. Took a Battery They had been Playing on us. During the second Engagement our Brig was trying to make a flank Movement on Them But before we could Succede They were routed. They then took the Third possition at the Grave Yard at Richmond... General Churchhills Briggade attacted Them. They made a desperate stand for some time. They got behind Tombstones to fight. Our Brig was Thrown on the Left to assist Churchhill. Bud, Nelson was wounded There. Churchhills Brig Charged them Fought Desperate for some time. But a lafs when they got a glimpse of Preston Smiths vetrons every thing was in Confusion it was a Complete Stampede. They were scatered over the hole country in a very short time.
We killed and wounded 2800. Taken prisoners 5800. Gen Herby Smith Rode by us Late in the evening. Told us that it was the greatest days work that had been done in the Confedracy. Richmond is the Home Cacoius M Clay. But Cowardly Deville was not at home on the 30th of August.

Aug 31st The 47 and 12 Regments ware sent out on the Lexington Road 4 miles To gather up the Arms and a great Many other things the Yanks scattered in There stampede. I stayed a Camp just returned from Town. The Court House Yard is Full of Feds, waiting for There Paroles.

Sept 1st Left early this morning for Lexington. Did not take the immediate Road, but Flanked around to the Left. Walked to day 20 miles. Struck camp 8 miles from Lexington. Stayed all night.

Sept 2nd We are still still in camp 8 miles from Lexington. The Feds have evacriated That place Last Night. Took up the Line of March this Evening Struck camp within 4 miles of Lexington for the night.

Sept 3rd Left early this morning for Lexington. Passed by the immortal Henry Clays residence a mile from Town. Marched in Town. Great rejoiceing among The citicens. The Confedrate Flag was floating on every breeze. There scorse of Southern rights men here use then marched out on the Frankford Road. Pafsed by Henry Clays Monument it is a Magnificent thing I suppose it to be about 200 Feet high. Struck camp about 2 Miles from Lexington ordered to cook 2 days Rations.

Sept 4th

Sept 4th We have not as yet received marching orders stayed in camp all day.

Sept 5th Ordered to march. Marched within 2 miles of Paris [Paris, KY]. Struck camp.

Sept 6th Took up the line of march early this morning, went through Paris. Marched untill 2 o'clock struck camp at Ridleys Mills [Ruddels Mills, KY??]. Cooked Rations.

Sept 7th Left Camps early this Morning marched to Cynthean [Cynthiana, KY] struck Camp.

Sept 8th Marched two miles beyond George Town [Georgetown, KY], on the Frankford Road. Camped in Gen Johnsons Meadow.

Sept 9th Marched to Frankford [Frankfort] The Capital of the State. Camped on the bank of the Kentucky Rivers.

Sept 10th Ordered back to George Town. Marched it to day, dis 18 miles. Our feat bleading. Tired most to Death.

Sept 11th Ordered back to Cyntheanna. Left George Town this morning at 4 o'clock this morning struck Camp within seven of Cyntheanna, we are all Tired down.

Sept 12th Walked 2 miles beyond Cyntheanna on the Coventon [sp] Road. Struck camp.

Sept 14th Marched Three miles beyond Critendon [Crittenden, KY] on the Coventon Road. Struck camp.

Sept 13th Marched with in Six miles of Williams Town [Williamstown, KY]. Camped for the night.

Sept 15th Stayed in camp all day we are in 22 miles of Cinnation [Cincinnati??]. A portion of our Division drove The Federal picketts in yesterday.

Sept 16th Ordered to Fall Back. I do not no how far. Wm Ashley and Miself stood picket Last night. Our Command Camped one mile from Critendon on the Williamson Road.

Sept 17th Marched back to Williams Town. Cooked Rations. Left at 4 o'clock this evening, walked 9 miles struck camp about 11 o'clock. Rained all night.

Sept 18th Took up the Line of March this morning Travailed all day. Struck Camp on the min pike Leading from Williams Town to Georgetown. The Name of our camping place Eagle Creek.

Sept 19th Stayed in camp all day a waiting for orders.

Sept 20th We are still in camp at Big Creek. Drawed 2 days Rations. I understand we are ordered back to Gen Cheathams Command.

Sept 21st Left Eagle Creek Earley This morning marched 3 miles beyond Georgetown on the Frankford Road.

Sept 22nd Did not Travail to day we are all Suffering with our Feat.

Sept 23rd Marched to Frankford. Camped on the Bank of the Kentucky River, for the night.

Sept 24th Marched 14 miles on the Shelbyville Road. Camped There.

Sept 25th Marched to Shelbyville. Struck camp, waiting for feather orders.

Sept 26th We are still in Camp one mile from Shelbyville on the Louisville Road. Went to Town This Evening to police the Town.

Sept 27th We ware released from Police This Evening.

Sept 28th We are still in camp near Shelbyville. Went out on general Review This evening.

Sept 29th Went out on Briggade Drill This morning.

Sept 30th Nothing occured of interst. Every thing quiett.



= October =


October 1st Stayed in Camp all day. Cooked 2 days Rations. After Supper we ware ordered to be Ready to march at a moments warning.

Oct 2nd Left Shelbyville this morning at 2 o'clock. Marched to Frankford to day. Tired down.

Oct 3rd Stayed in in Camp all day.

Oct 4th Took up the line of march this morning. Marched beyond Larranceburg [Lawrenceburg, KY]. To day is set a part to inorgerate a Governer for leg stretch camp cooked 2 days Rations. Eat supper ordered to start gave. Marched all night.

Oct 5th After Traveling all night we are ordered to start a game, marched to Harrodsburg. Our Feet Literly ruined.

Oct 6th We are still in camp at Harrodsburg. Cheathams Command Landed here this evening Numbering about 20,000. The Boys are all in fine spirits.

Oct 7th Stayed in camp untill late this evening. Ordered to march out and attact. Buel marched 4 miles on the Perribille [sp] Road. Our Briggad was ordered Back to Harrodsburg to guard that place. Cheatham says he intends to keep us out of the Fight if there was any possible chance. Got back to Town about midnight. The Ballance of our command ?? ?? ??

Oct 8th Our Briggade was ordered leave for Perriville [Perryville, KY]. Landed There a 11 o'clock. The Fight commenced by day light. Our Briggade supported different positions during the day. Our Command slep on the Battle Field. The Feds Fell back several miles.

Oct 9th Ordered to pull back from Perriville to Harrodsburg. Landed there This Evening. Yesterdays Fight was one of the Bloodiest that has been Fought During the War drove them back several miles whiped them badly.. Buel was reenforced Last Night from Louisville. That is why we had to fall back to Harrodsburg.

Oct 10th Left Harrodsburg for Camp Dick Robinson [east of Davistown, KY] marched 8 miles. Ordered back to Harrodsburg. Cold rain falling. We are still without tents. Have been without Them eversince the 13 of Aug 1862.

Oct 11th Left a gone for Camp dick Robinson marched several miles, halted. Throwen in line of Battle as we Thought Treated to a Barrell of whisky by Gen Preston Smith. Aggreeably Disappointed. Crossed Dick River. Landed at Dick Robinson in the night.




---
Last updated: 6 Jan 2014
Web Author: John Locke
Copyright © 2014 IdleTime Industries - ALL RIGHTS RESERVED